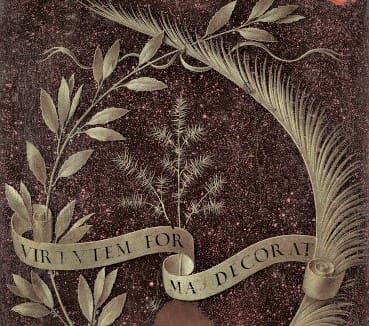 The Governors' Award is a framed limited edition print commissioned by the Leonardo Da Vinci Academy and is based on an original painting by Leonardo which inspired the Academy's motto. The work of art depicts a juniper branch at the centre of an arch formed by a palm branch and a laurel branch. The three branches are intertwined with a scroll on which are written the words: VIRTUTEM FORMA DECORAT – the Academy's motto. It translates from the Latin as: BEAUTY ADORNS VIRTUE. 
The Award has been presented annually at the Academy's Governors' Ball to individuals selected by the Board of Governors in recognition of outstanding achievements in education, culture, or other humanitarian pursuits. The Award serves to highlight role models for students.
Past recipients of the Award include Dr. Francesca Valente, Professor S. B. Chandler, baritone Louis Quilico, CEO Ron Barbaro, Father Frank Cialini, Dr. Caterina Cicogna, former LDVA Chair Mary Bartolini, Dr. Flavio Coceani, Dr. Annamarie Castrilli, Pastor Evasio Pollo, author Nino Ricci, Dr. Nancy Olivieri, musician Guido Basso, Federal Minister Maria Minna, Rev. Thomas Rosica, former  RCMP Commissioner Giuliano Zaccardelli, Director of Education Angelo Di Ianni, Poet Laureate Fr. Pier Giorgio Di Cicco, artist Joseph Cusimano, Montessorian Helma Trass, actor Tony Nardi, Neurosurgeon Dr. Fred Gentili, Toronto Consul General Gianni Bardini, and philanthropist Rossana Magnotta.
The print was produced in 1988 by Canadian artist Richard Hayman. Through the medium of a handcrafted soft etching he has masterfully reproduced an exclusive work of art which the Academy can award with distinction and which will be treasured by all recipients. Ten artist proofs of the Award exist. These are awarded by the founders to special "friends of the Academy" – two have been awarded to date.