SCUOLA MATERNA
Scuola Materna Leonardo Da Vinci is an authentic Italian immersion Montessori preschool program for children 3.8 to 6 years old that is recognized by the Italian government and is unique in Canada.
SCUOLA MATERNA LEONARDO DA VINCI
The Scuola Materna Leonardo Da Vinci was born out of the European model for Early Childhood Education and has become an exceptional Canadian alternative for discerning parents. When the Leonardo Da Vinci Academy opened its Scuola Materna in 1991, the first in Canada, Rosa Agazzi was the inspiration and driving philosophy.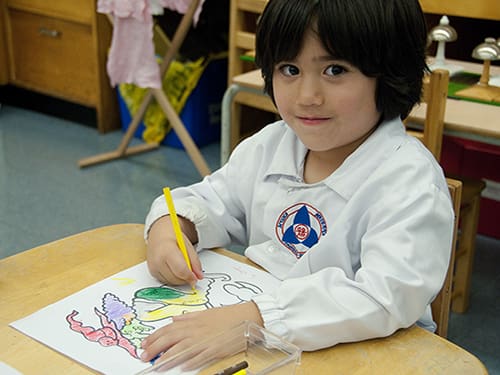 Rosa Agazzi influenced the reform of Early Childhood Education in Italy when in 1896, along with her sister, she founded the first Scuola Materna (preschool) of Mompiano (Brescia). Much like the Reggio Emilia approach, the school served as a model for other kindergartens and preschools throughout Italy. Like Reggio Emilia, the Agazzi methodology respects the spontaneity and personal experiences of the child and the classroom is viewed as a community of learners engaged in a variety of activities that foster a natural development of each child through creative play and social interaction. In 2008, Leonardo Da Vinci Academy expanded to include a greater Montessori component in its preschool and primary programming. The Montessori methodology was eventually adopted in its Scuola Materna and Lower Elementary grades.
While incorporating elements from its Agazzi roots, the Scuola Materna classroom transformed into a Montessori model. Due to common origins and core values, the transformation of Scuola Materna from a purely Agazzi to a Montessori classroom was a natural transition. Today's Scuola Materna is a bright, beautiful place furnished with Montessori materials for the complete development of the child. There is a harmony of light and colour with a refinement of spirit. In keeping with Montessori methodology, the children advance through the materials from simple to complex, building on previous accomplishments. The exercises encourage orderly thought, independence, and autonomy. There is a two to three year age mix in the classroom – ages may range from 3.8 to 6 years.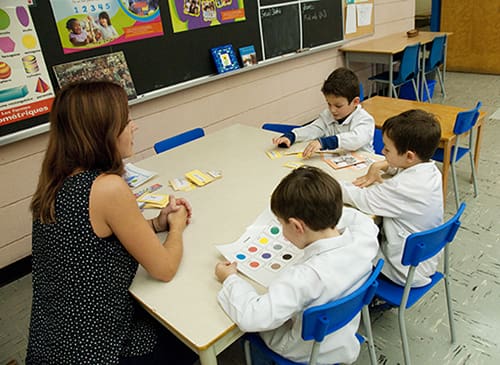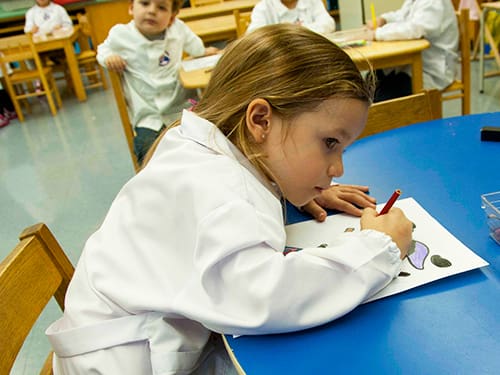 This allows the children to learn from each other while working at their own speed. Children are free to work together, in groups, or on their own. In addition to a well-rounded Montessori based curriculum, the Scuola children also spend time throughout the week with specialist teachers for French and Music instruction as their schedules allow. The Scuola Materna is a loving, stimulating, and nurturing environment enriched with a full range of Montessori materials to explore and learn from. The goal of our Scuola Materna classroom is to provide a carefully planned and stimulating environment to help each child develop habits, attitudes and skills necessary for a healthy and fulfilling life in the true spirit of Montessori and Agazzi. This is accomplished in an Italian immersion environment that promotes the development of fluency in the Italian language and exposure to the Italian culture.
OUR TEACHERS
Teachers of Scuola Materna not only have Montessori training but also have native qualifications in Italian. Scuola Materna graduates who have been immersed in the Italian language at an early age not only develop fluency in Italian, but improve their capacity for learning other languages. Graduates are also very well prepared for transition into the Academy's Lower Elementary Montessori program.
THE EUROPEAN MODEL
The kindergartens and nursery schools found in Italy and other European countries are among the best in the world. Recognized as being a critical stage of development, Early Childhood Education commands a high priority in European societies. As a result, preschools in Europe are ideologically different than the institutionalized daycares and nursery schools prevalent in North America designed to meet the needs of working parents more than the needs of children. European preschools all share a common focus – 'the child' at the center. They believe that the development of a healthy emotional profile, along with social and cognitive skills, is paramount. When the needs of the whole child are addressed the rest will follow naturally. Creativity, autonomy, and a sense of order are nurtured. Tolerance, respect for others, personal hygiene, and co-operation among different age groups are promoted. This is all accomplished within an active, played based, and nurturing environment.
SCUOLA MATERNA HOURS (five full days per week) :
FULL DAY runs from 8:30 am to 3:30 pm and includes lunch and snacks. EXTENDED HOURS CARE is also available for working parents. This option includes any number of half-hour periods from 7:30 am to 8:30 am and from 3:30 pm to 5:30 pm. Parents who wish to make use of this extended care service are required to submit a special Request Form (available from the office).
Click on one of the following links for application procedures or tuition information: