CASA MONTESSORI
Our Casa Montessori classroom is a bright, beautiful place furnished with Montessori materials for the complete development of the child. There is a harmony of light and colour with a refinement of spirit. The children advance through the materials from simple to complex, building on previous accomplishments. The exercises encourage orderly thought, independence, and autonomy.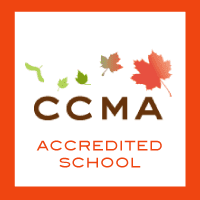 Casa Montessori is a CCMA accredited Montessori preschool. The ages of children in the Casa classroom range from 2.5 to 6 years. Our Casa Montessori is also licensed by the Ontario government and meets Ministry guidelines.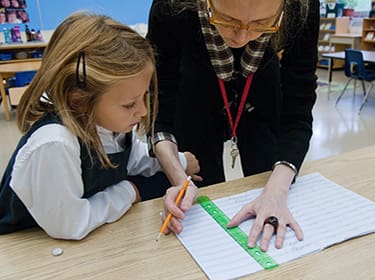 The main goal of our Montessori classroom is to provide a carefully planned and stimulating environment to help your child develop the habits, attitudes and skills necessary for a healthy and fulfilling life in the true spirit of Montessori.
In addition to the Montessori curriculum full day children are exposed to French and Music instruction throughout the week. Italian language is also an option for interested families. The Casa is staffed by a qualified Montessori Directress and a trained Montessori Assistant who are responsible for the direction and implementation of the Montessori program.
There is a three-year age mix in the classroom – ages may range from 2 years 6 months to 6 years. This allows the children to learn from each other while working at their own speed. Children are free to work together, in groups or alone. Children must be toilet trained and those under 4 years have the option of half day or full day. From 3.8 years old children are required to attend full days.
The main goal of our Montessori classroom is to provide a carefully planned and stimulating environment to help your child develop the habits, attitudes and skills necessary for a healthy and fulfilling life in the true spirit of Montessori.
PROGRAM OBJECTIVES
PRACTICAL LIFE: The children undertake practical activities that establish, preserve and embellish the environment and themselves. Here, nothing is withheld: all activities are at their disposal. This allows a mastery of their environment at an unhurried pace. These activities nurture self-esteem, independence, and a child's ability to concentrate while indirectly preparing the child for reading, writing and mathematics. Muscular co-ordination aids writing and the mental order derived from sequences aids the acquisition of mathematics.
SOCIAL AND MORAL DEVELOPMENT: Developing good manners and respect for others; promoting kindness and honesty; and encouraging co-operation, good sportsmanship, and non-violence.
EMOTIONAL DEVELOPMENT: developing self-discipline, self- confidence and a healthy self-esteem; promoting good work habits and job satisfaction; and encouraging a life long love for learning.
PHYSICAL DEVELOPMENT: improving co-ordination and refining motor skills; and encouraging good health, good nutrition and good safety habits.
INTELLECTUAL DEVELOPMENT: developing a sense of order and logical thought; improving attention span and power of concentration; stimulating communication skills and language development; developing an appreciation for music and the arts; and stimulating creativity.
"Let the child be free; encourage them; let them run outside when it is raining; let them remove their shoes when they find a puddle of water; and, when the grass of the meadows is damp with dew, let them run on it and trample it with their bare feet; let them rest peacefully when a tree invites them to sleep beneath its shade; let them shout and laugh when the sun wakes them in the morning…" – Maria Montessori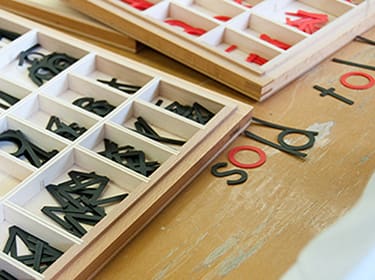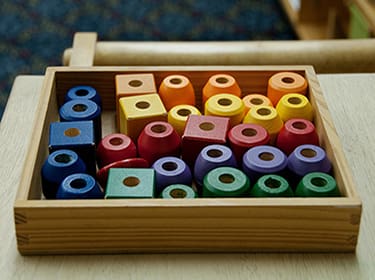 MONTESSORI EDUCATION
Montessori Education is an aid to life, calling forth that which is within each child giving the opportunity for spiritual, intellectual, social and creative development. Maria Montessori believed that children have an "absorbent mind" and are driven from within to effortlessly absorb everything from their environment. If free to learn, children will joyfully select activities that develop their innate abilities. Children are naturally stimulated by the world around them and have a passion to learn that should be the pivot of their own education. A true Montessori environment fulfills this need to grow and learn. The Montessori directress is the dynamic link between the children and the materials. She presents materials and the children learn what they need to know through repetitive manipulation of the Montessori materials.
Sample Daily Routine
Morning Program
7:30 am – 8:30 am

Extended Care Option

 8:30 am – 11:20 am

Montessori Work Period

children are allowed free choice of apparatus from Montessori activity centres

some children will receive lessons to introduce and reinforce new concepts contained in apparatus

alternate group "circle time" (optional)

snack available (optional)

"Circle Time"-Optional (children have the choice to participate in circle time or complete their work)

lessons to enrich vocabulary and master sounds

lessons to enrich mastery of numbers and counting

discussion of current events/ calendar/ weather/ prayer

story reading adapted to current events

music and movement exercises

Alternate group introduction to French Language (20 minutes) Alternate group gymnasium play (30 minutes)

11:20 am – 11:30 am

   Full day children prepare for lunch
Afternoon Program
11:40am -12:40pm – Lunch, Arts & Crafts, Free selection from Montessori materials
12:45pm -2:00pm – Outdoor or Gymnasium Play
2:00pm -3:00pm – Older children receive lessons in cultural subjects (botany, zoology, geography, history) Younger children are free to work with Montessori materials.
Afternoon Snack
3:00 -3:25pm – Optional Italian lesson
3:30pm – Dismissal time
3:30-5:30pm – Extended Care Option & After School Program
Click on one of the links below for application procedures or tuition information: